I just got chased down the street by a mob of screaming village women with hand woven blankets on their heads, combs in their hair, heavy silver hoops in their ears and my wallet on their to-do list.

I'm in this stunningly beautiful Vietnamese mountain village on the border of China called Sapa where one of the big perks is that, aside from being on top of the world, you get to mingle with the indigenous tribes people, walk through their villages, stay at their homes, etc. Meanwhile, no one prepares you for the fact that they are the most ruthless salespeople in any third world country. Ever.
And the really sucky part is:
1.) You, of course, feel like a heel for not giving every single one of them something, anything, considering they could live for a year on what you'd spend on a taco.  Their level of poverty is unthinkable and just because you were lucky enough to be born into a household with running water, you get to doop de doo through their lives on your holiday.
2.) You miss out on talking to some really interesting, hilarious people. I've had several
awesome conversations with a couple of them, but you get so tired of trying to get through the I'm not buying anything from you part, which never ends actually, that after two days you find yourself sprinting down the street in hopes of out running them instead.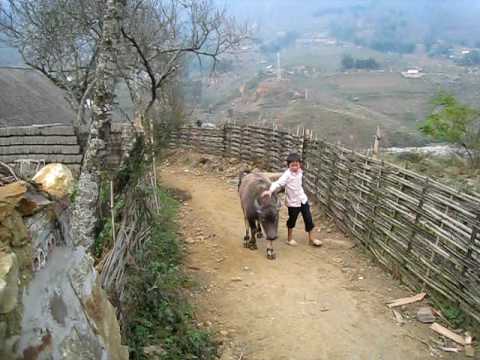 I took a guided trek with 6 other people down into the valley for an overnight stay in one of the villages. You start out literally up in the clouds, surrounded by endless
fields of rice paddies and some of the most gorgeous mountaintops I've ever seen – I felt like I was flying – before descending straight down, for a knee-wobbling hour or three.
Our 18 year old guide, Tang, who fancied himself a poet and told us repeatedly how he longed for a girlfriend, would stop at every single overlook, sigh wistfully, sing, or sit and ponder, oblivious to our cries for help as The Village Ladies swarmed in on us.
At one point we passed a school where the girls were rehearsing a dance performance.  They were smokin':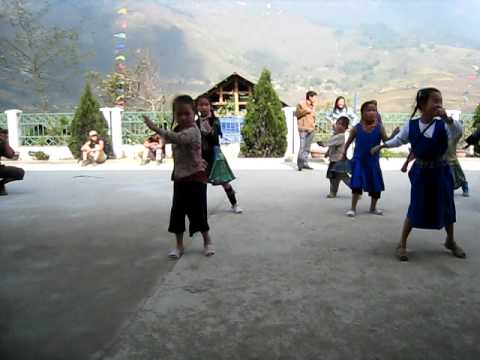 We spent the night in a lodge of sorts, playing cards with our guides, eating and drinking happy water and woke up the next day to fog so thick you could chew a hole through it.
It had also rained overnight which meant that the narrow, dirt trails leading out of the valley had turned to slick mud and I spent the next 6 hours slipping, sliding, flailing and pulling sucked feet out of thick oozy rice paddies – it got so bad that I finally just had to give in and slide down Impossibly Steep Muddy Slope #73 on my ass because I knew I was going down anyway.
I looked like I'd slept under a pig by the time I finally crawled out of there.
All the while the village ladies effortlessly skipped along the slippery muddy rocks like little fairies in their crappy rubber boots and 99 cent store sandals, eagerly offering a helping hand to the clunky white people in our expensive shoes hoping that maybe, just maybe….
Two pairs of earrings and a blanket later, I crawled back into town and got a room that allegedly had a great view but, as we were getting sat on by a large cloud, I never found out for sure.  It was really beautiful anyway.