I know it's really un-PC to say this, but I think ruins are a snore.  After about ten minutes I begin to think yes, they're old and falling down, it's a miracle, can we get a mango shake anywhere near here?  Same with petroglyphs.  And things like fossils and artifacts.  Hello?  Check please!
I fully get the importance and wonder of being able to glimpse into our past but a glimpse is all I need
UNLESS THE GLIMPSING LOOKS LIKE THIS HOLY CRAP ON A STICK!
This frikken place blew my tiny mind!
Ta Prohm is one of a series of temples surrounding the massive Angkor Wat temple in the town of Angkor just outside of Siem Reap, Cambodia.  Ta Prohm was by far my favorite because the jungle was eating it.  I swear I could have played with my lip and stared at it all day.
It was built early in the 12th century and started out as a Hindu temple, then they switched over to Buddhism and now it's a tourists attraction where people come and make jokes about butts.
The Temple of Faces was one of my favorites too:
Then there was the massive Angkor Wat temple…
The whole place was riddled with monkeys who were alarmingly brazen – we watched while one went after this bag that some poor guy had left on the back of his parked motorbike.  It had, of all things, bananas in it, so the monkeys tore it apart and then got into a huge fight until Testosterone Monkey climbed up and banished everyone.
He sat there shoving the fruit in his face then jumped off the bike, mounted some unsuspecting lady monkey, humped her brains out, jumped back on the bike, beat his chest and polished off the rest of the bananas.
It was like watching the monkey version of Caligula.
Here's a kinder, gentler, rape-free moment with the monkeys: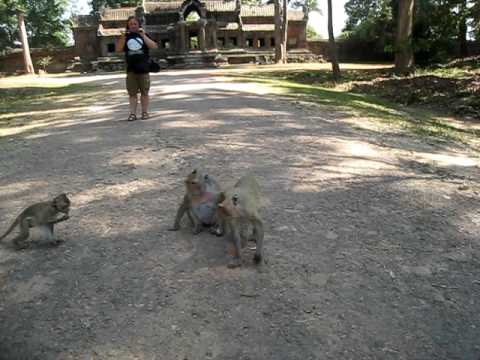 And last but not least, dancing girls!