This past weekend I:
1.) Hung out with some of the funnest people on this here earth in a hot tub at an RV park in the desert.
2.) Drove a 32 ft. RV into my neighbor's parked car.
3.) Saw some of the best bands on this here earth perform at Coachella, a 3 day music festival in desert 2 hours outside LA.
4.) Drove the same 32 ft. RV into a tree, ripping off part of the roof.
5.) Was so inspired I made a pact with myself to write and record an album before the end of the year.
6.) Was so freaked out I made a pact with myself to never get behind the wheel of an RV again.
Oh mighty Coachella!  Oh blasted giant roofed RV with your 3 foot long blind spot!
They will give any ding dong with a drivers license the keys to an RV!  It's ridiculous.  I rarely get through a day without hitting my head on something and that's attached to my neck – how the hell am I supposed to remember I have a queen sized bed looming over me while I'm driving around?
You should have to go to school to operate one of those things.  Alright, I should have to go to school to operate one of those things.  Thank god for insurance and for everyone who leapt out of the way when they saw me coming.
Hefty insurance deductibles aside, I must say that having 3 full days to hang around with 11 of your favorite people surrounded by beauty and music and the ladies who live at the RV park is a little slice of heaven.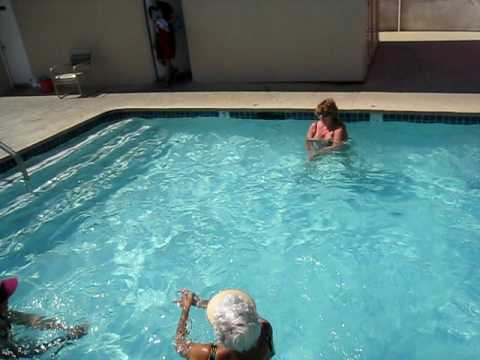 We'd spend the mornings/afternoons lounging around the pool before heading off on our fleet of bikes to take in as many of the 70 plus bands playing at Coachella as we could stand up for.
Bands of note that made me bang my head against the wall in disbelief that anything could ever be so staggeringly rockin (in order of live-performance staggeringness:)
Runners up were Phoenix, Echo and the Bunnymen, Thom Yorke, Kaskade, Spoon and probably a whole lot more that I can't remember.
I went with a bunch of friends from LA as well as 2 who flew out from parts easterly and immediately got separated from them pretty much within the first ten minutes every day.  Large groups + Many shows going on at the same time + I wanna see what I wanna see = Jen not such a great team player.
A record 75K people per day showed up (up a very noticeable 15K from last year) making it waaaaaaaaaay more crowded than last year.  Why oh why Coachella?  You used to be the best festival ever and now you still kind of are but now I have to fight to get some french fries.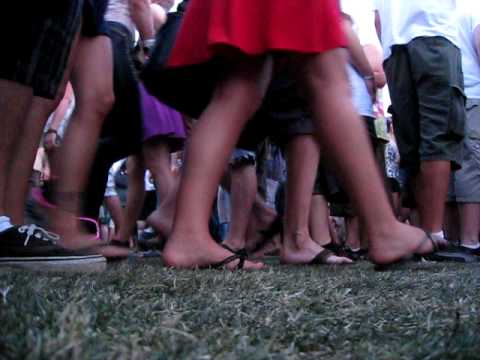 At one point I was hoping to hook up with my pal Vinny from Milwaukee, and was thinking to myself whilst looking for a place to sit down, "wouldn't that be amazing if I sat down right next to him?" Only to sit down, turn around and find him sitting right behind me.  In a crowd of 75 thousand people.  My hair is still standing up.  How the hell do things like that happen?  And happen all the time?