Oh New York, such an incredible place.  It's been so long since I've been able to pry myself off mom's couch in the burbs to drag my ass into the city that I forgot how charming it can be.  Here we are in bed, Mom and me, in our robes, surrounded by dogs and magazines:
Mom recently informed me that she's decided to pack it in and become "an interesting town character."  I salute this brave decision of hers and aspire to follow in her mighty footsteps someday.
The main reason for my trip was a reunion with the people I worked with at CBS Records/Sony Music back in the 90′s.  These were the people I spent the majority of my 20′s with, who I got drunk at lunch with, went to see ridiculous amounts of free concerts with, blasted the stereo in my office with, stole stuff from work with, complained about the best job ever with.  It was like college except we got paid and  L.L. Cool J. sometimes showed up and walked around the halls without his shirt on.
It was pretty much nonstop hilarity.  Here's my friend Leora wetting her pants compliments of Ira Fritz, the guy she used to share an office with: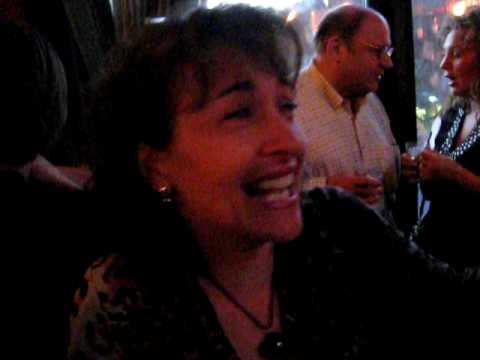 Before the party I was walking through some wee charming street in the west village, feeling like I was in Paris and marveling at the fact that I hit NY at the perfect time because all the trees were in bloom and my face wasn't being ripped off by icy winds like the last time I was there.
Spring in New York!  Is there anything that makes you want to leap up and click your heels like springtime in New York? I could barely walk down the street without screaming.  Yet, where was my camera one wonders?  I've got 8,000 pictures of my arm wrapped around someone's neck, mouth open, blurry party going on in the background, but the narrow romantic street lined with bright pink trees bursting with fat juicy flowers that will be there for one week and one week only?
:-/
Note to self:  Camera.  Bring it.