Tokyo's tallest new fan has arrived.
I could spend pages waxing on about the awesomeness of the food and the people and the architecture and the public transportation and the skyline – all of which are the best of the best, but I want to talk about the fact that…
where else in the world are you going to meet her?
or buy these?
Or see this?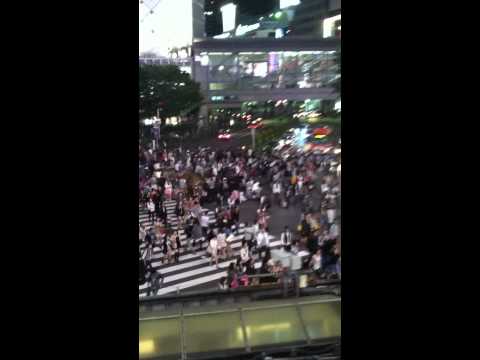 This is the crosswalk in my neighborhood, Shibuya, that's reported to be The Busiest Crosswalk In The World.
Every time the light changes it's like a concert just let out.  It's incredible.
But back to the costumes.  I went to this neighborhood today called Akihabara, also known as Electric City because of its endless sea of electronic stores.
What was left off the tourist map, however, is that there are all these girls dressed as French maids enticing you to come in to their establishments to eat and or/get massaged.
It was kind of a sex shop/seedy neighborhood, so I just assumed they were part of the shennanagins, but when I peeked inside one of the restaurants, there was a family with a bunch of kids eating a pile of pancakes served by the sexy maid.
Back in my sex expert days, I prided myself on knowing the ins and outs of the fetish world, but I clearly gots me some Japanese homework to do!  Right?  I mean, look at their pet stores?
I've met so many great people here already, including my new pal Traci, the owner of the esteemed ex-pat restaurant The Pink Cow
AND several of my favorite people who I met in Bali, fellow members of the NPA incidentally, just so happened to come to Tokyo when I did!  Including Ken and Anne Moss, two of my faves.  Back in the 70′s Ken started an airline called Freelandia that had water beds and concerts and parties and drum circles on the planes.  Sadly, it didn't last long but hello?  How excellent is that?